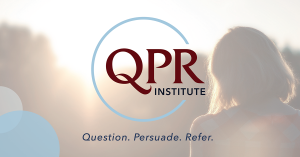 September is Suicide Prevention Month, which makes it a little bit easier to talk about this difficult topic. Suicide is one of those issues that many people feel uncomfortable discussing, whether they have had thoughts of suicide, love someone who has attempted suicide, or have lost a friend or loved one to suicide.
That said, it's vitally important to discuss suicide and learn ways to talk to individuals who may be at risk. During the QPR Question, Persuade, Refer Gatekeeper Training offered by the Public Policy Institute, participants learn how to approach, listen to, and take positive next steps with someone who is considering suicide. Participants aren't asked to play the hero or take on responsibilities they aren't equipped to handle. Rather, they learn how to discuss the subject without judgment or fear and, if appropriate, refer someone to help.
To learn more about suicide and how it can be prevented, we've developed this quiz based on our QPR training, which we offer frequently throughout the community. The more you know about suicide, the more confident you will feel when you encounter someone who may be considering it.
Want to learn QPR? Sign up for our training announcements at this link.