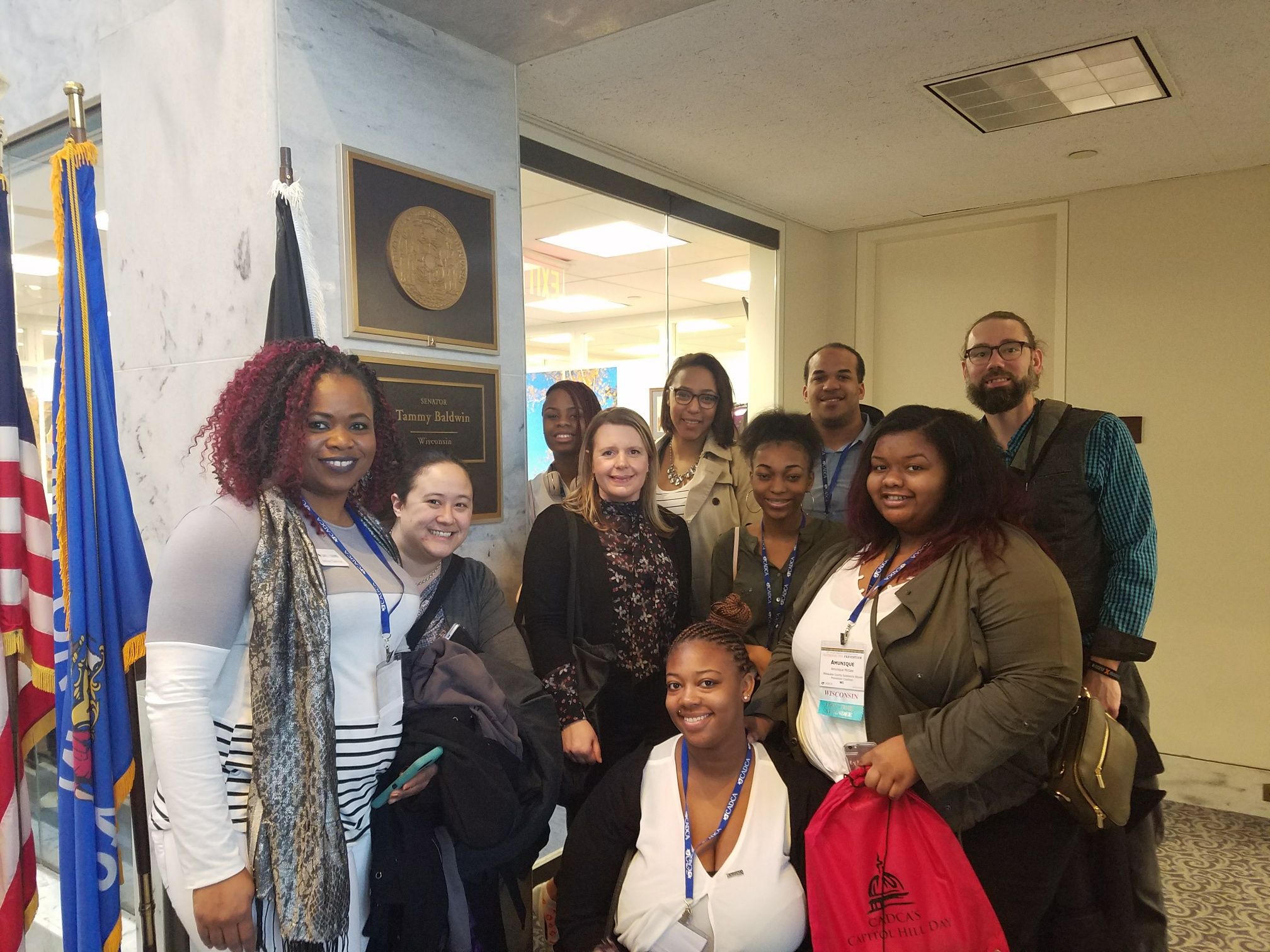 Ten prevention advocates supported by the Milwaukee County Substance Abuse Prevention (MCSAP) coalition attended the 28th annual Community Anti-Drug Coalitions of America (CADCA) conference in the Washington, D.C., area, and promise to bring their knowledge back to work in Milwaukee.
In fact, they already started impacting the discussion about prevention while they were in Washington.
The group took time out from the conference to spend an afternoon on Capitol Hill to speak with aides to members of Wisconsin's congressional delegation—Senator Tammy Baldwin, Senator Ron Johnson, Congresswoman Gwen Moore, and Congressman James Sensenbrenner. The advocates stressed the need to take prevention initiatives seriously.
MCSAP's advocates were Community Advocates Public Policy Institute Prevention Services Manager Elysse Chay, Alliance for Wisconsin Youth Prevention Coordinator Jazzmyne Adams, 53206 Drug-Free Communities Project Coordinator John Eshun, Public Policy Institute Grants Manager Deb Heffner, and Safe & Sound District 5 Community Organizer Adrian Spencer. Neu-Life Community Development Director Jody Rhodes and four of her youth FACT Movement members—Dejah Brown, Amunique McGee, Maya Randolph, and Destiny Yarbrough—attended CADCA's Youth Leadership Summit.
Destiny Yarbrough, a FACT leader at Neu-Life, said the highlight of her trip was the opportunity to speak with congressional aides about the importance of reducing tobacco use among young people. The group also showed a video featuring her and Randolph talking about how tobacco has harmed them, their families, and their community.  
The Capitol Hill visits "gave me so much confidence to be able to talk to anyone," Yarbrough said. "I also loved connecting with other youth from various places and sharing the same common goal, to clean up our communities and try to identify and educate others in our community about tobacco."
PPI's Grants Manager Deb Heffner said she was "deeply moved" by the presentations by Neu-Life's youth members on Capitol Hill.
"These youth are products of the prevention programming Community Advocates supports and they are absolutely thriving," Heffner said. "The tobacco prevention video they shared during our meetings was a shining example of their individual successes but also the major needs and issues that they face in their communities."
CADCA's conference is the largest training event for community-based substance abuse prevention professionals, coalition leaders, and prevention and addiction researchers, including MCSAP's advocates.
"This year's forum brought over 3,000 individuals together from across the country -- which is a unique and powerful experience in itself – that not only validates, but further advances the prevention work we do each day through MCSAP, Drug-Free Communities coalitions, the City of Milwaukee Tobacco-Free Alliance, Partnership for Success, and the Alliance for Wisconsin Youth," said PPI's Deb Heffner.
The convention combined plenary sessions with keynote speakers such as the Acting Director of the Office of National Drug-Control Policy, Richard Baum, and the Acting Director of SAMHSA, Elinore F. McCance-Katz, plus CADCA's leadership and members of Congress. Training sessions were provided to give strategic and technical support to coalitions.
"I found the Alcohol Outlet Density session to be the most interesting and useful of the session I attended," said Safe & Sound's Adrian Spencer. "David Lardier of Patterson, N.J., presented on the work around the number of liquor outlets that are concentrated in the urban areas and how it relates to violent crime. He provided examples of how the coalition worked the city council to reduce the hours of operation of those establishments thereby reducing (really just displacing) the violent crimes that occurred in those areas."
She continued, "He shared the sticker shock campaign that they created with a youth team to discourage underage drinking and insisted that we pair drug and alcohol awareness to be the most effective. He reported that this was a five-plus-year project and initially it was very slow moving."
Deb Heffner said that the biggest takeaway overall was "the affirmation of how critical prevention is. Drug abuse and addiction cost our country billions of dollars. If we can invest in evidence-based prevention programming on the upfront, we will not only save individuals and families, but also save a significant amount of money."